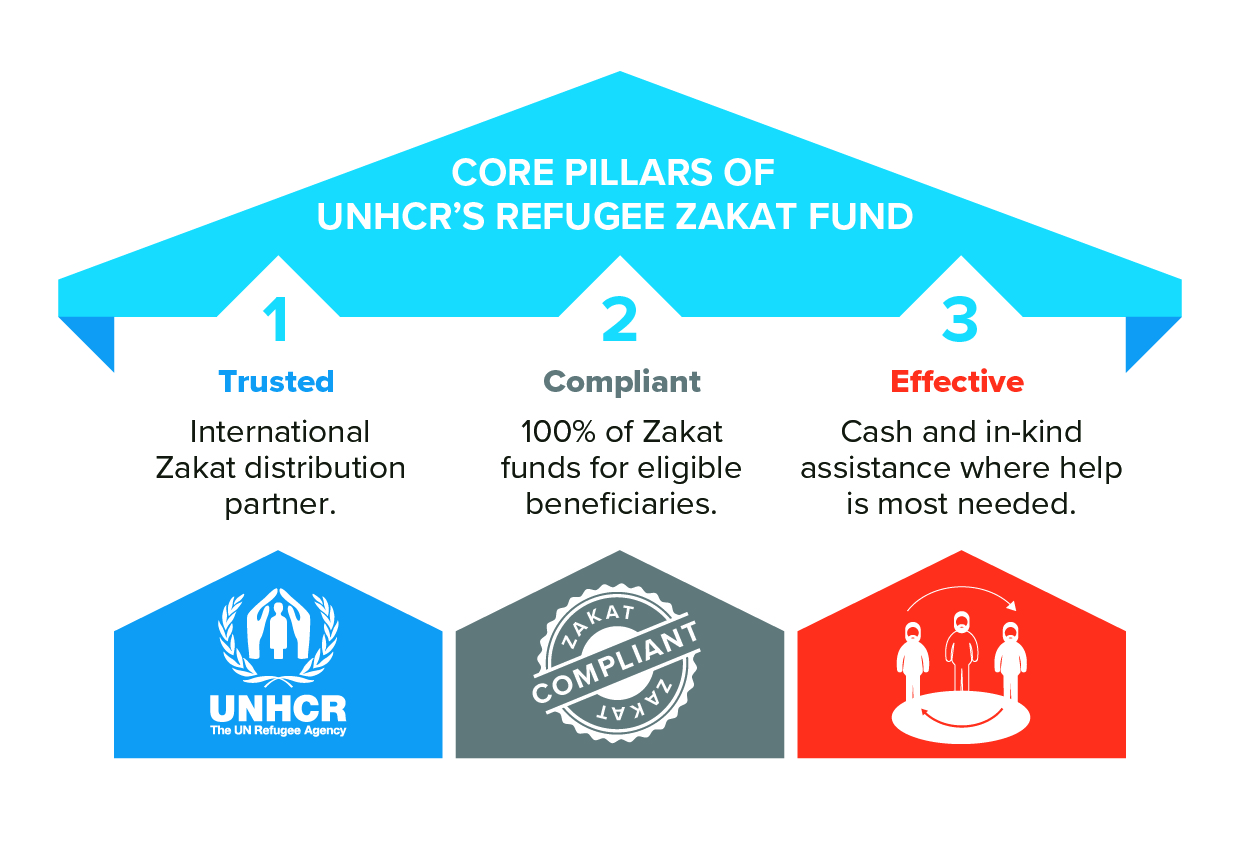 UNHCR's Refugee and IDP Zakat Fund is a trusted, compliant, and effective distributor harnessing the power of Zakat to transform the lives of refugee and displaced families, including in hard-to-reach areas.
Refugees are people who have fled war, violence, conflict, or persecution and have crossed an international border to find safety in another country. IDPs stay within their own country and remain under the protection of its government, even if that government is the reason for their displacement. They often move to areas where it is difficult for us to deliver humanitarian assistance and as a result, these people are among the most vulnerable in the world.
60% of people forced to flee originate from member states of the Organization for Islamic Cooperation, further affirming the desire of the Muslim Ummah to help support the plight of refugees and IDPs. UNHCR piloted the receipt of Zakat funds in 2017 and 2018, which has assisted 6,888 families in Jordan and Lebanon. Based on this, UNHCR launched in 2019 the "Refugee and IDP Zakat Fund".
UNHCR's Refugee and IDP Zakat Fund follows a 100% Zakat distribution policy, ensuring 100% of Zakat contributions are delivered directly to eligible families most in need. UNHCR is covering overhead costs associated with Zakat distribution from non-Zakat sources.
UNHCR's Refugee and IDP Zakat Fund is subject to rigorous governance and oversight, ensuring transparency at every step, leading to the provision of assistance.
This governance approach includes the following pillars:
Zakat Compliance

Scholars: The Fund is Zakat compliant, backed by fatwas from credible scholars and institutions.
Infrastructure: The infrastructure follows fatwa recommendations by dedicating 100% of funds to Zakat eligible refugees and IDPs.
Compliance review: The fund distribution is overseen annually via third-party field visits to monitor distribution and issue compliance reports.
Donor centric: The destination of the funds is decided by the Zakat donor/partner at the onset of partnership.

Assessment and Monitoring

Vulnerability assessment framework: to identify eligible refugee and IDPs to identify Zakat-recipients, which is updated on yearly basis.
Innovation: use technological resources to ensure distribution is efficient and minimizes fraud and duplication.
Post distribution monitoring: Twice a year, we measure impact and improve implementation in our Zakat distribution mechanisms.

Financial Governance

Management & accountability: The Zakat funds collected are kept in a dedicated interest-free bank account in Lagos, Nigeria and Geneva, Switzerland.
Traceability: All funds are dedicated to Zakat compliant programmes in identified countries with high needs.
Transparency: UNHCR publishes annual Zakat reports and partners are provided with customized reports to provide clear information on how the Zakat funds have been distributed.