Session Brief
As part of the C20 Summit hosted by the Kingdom of Saudi Arabia this year, UNHCR organized a panel discussion which highlighted pioneering and innovative approaches in harnessing the power of Islamic Philanthropy to address education, employment, infrastructure and related needs globally. A total of 72 participants from around the world signed up for the event and around 900 participated across all platforms of the C20 Summit during the day.
The event speakers were Dr. Saleh Suleman Al-Wohaibi, Secretary General, World Assembly of Muslim Youth (WAMY), Maya Marissa Malek, Chief Executive Officer, Amanie Advisors Global Office, Mohammed Agha, Head of Special Projects – CEO Office, Crescent Enterprises, Ashraf Gomaa Ali, Director/ Regional Head, Sharia Advisory and Governance, CIMB and Khaled Khalifa, Senior Advisor and Regional Representative for the GCC. The session's moderator was long-time UNHCR supporter, Adwa Al Dakheel, Founder & CEO, Falak Investment Hub.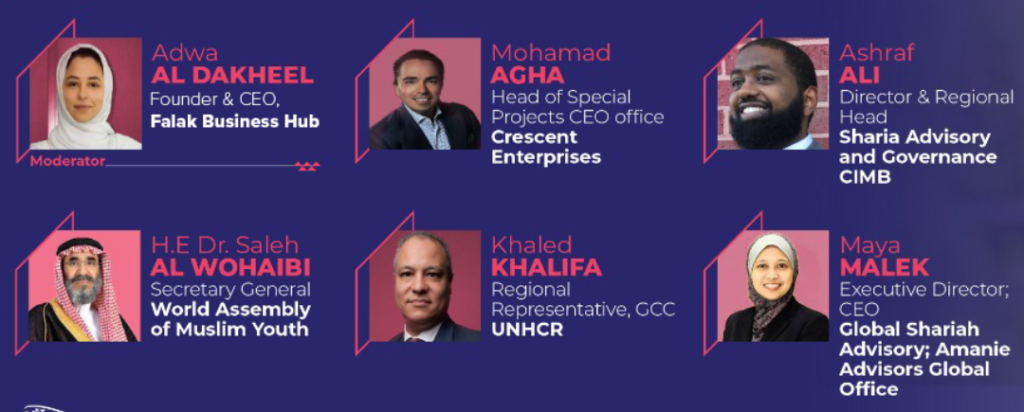 UNHCR's Khalid Khalifa started the session with stating that 1% of the world's population is now displaced, with 80% living in countries that are already struggling with acute food insecurity and malnutrition. He explained that people living under poverty in the Muslim world are twice their equivalence anywhere else in the world, which makes it inevitable that we resort back to Islamic [Social] Finance, "and partnerships is the key word here, because the scale of the issues we are dealing with are beyond the capacity of any individual organization or country to deal with. They are global issues we are facing and require global collaboration to be involved in the response, thus enabling Islamic Finance tools to achieve the reach required from them".
Maya Marissa Malik spoke about how Islamic Philanthropy is one area where there is an overlap between Islamic Finance and traditional finance. "It is about doing good and an attempt to achieve the objectives of Shariah by sharing wealth and prosperity" She goes on to explain that Islamic Social Finance is a term we all know and live, especially lately with how people have gone out of their way to help each other during these challenging times with the global pandemic and this is the substance of philanthropy. She goes on to allude that it is essential to "look at philanthropy from both angles, which is understanding the substance and striving to make sure that we achieve the objectives of shariah through various tools to make sure that there is a positive impact when we carry out social finance initiatives".
Dr. Saleh Al-Wohaibi explained that the issue of advancing the charitable sector is an issue that WAMY has been working on for a long time. He highlights the importance of providing financial assistance within this sector, especially since "we are speaking about Muslim countries which are struggling, whereby their communities are not able to face their financial struggles alone and this is where we need to step in and offer assistance, whether financially or through programmes that will have a long lasting impact on those most in need" Another essential point he goes on to highlight is that volunteering is key and that WAMY encourages youth to engage themselves with international organizations such as the UN, in order to learn from their expertise.
Mohammed Agha spoke about how impact should be at the center of any effort and that any engagement aimed at driving the impact of Islamic Philanthropy to go far and wide "has to be based on three important pillars: 1)Trust: you have to trust the counterpart you are dealing with, whether a partner, beneficiary or a donor 2) Access to information: having access to timely information that is unbiased and neutral and 3) Efficiency: Efficiency in delivering of assistance". He highlights that in order to achieve strong impact, maximize it and harness the power of the multiplier effect, you must rely on these three pillars in order to achieve transparency, accountability and connecting with each other on a peer to peer trusted level.
Ashraf Gomaa Ali states that the ultimate goal in the Islamic banking sector is to ensure that all efforts should contribute to making the financial system a mercy to the world, "focusing on banking that seeks to maximize benefit to society and individuals, in-line with the universal values of preservation of faith, life, intellect, family and wealth". He adds that in order to fuel innovation, we should look at new models emerging that are more decentralized, with less bureaucracy, while maximizing the use of technological tools in order to maintain proper governance and a high level of compliance.

Adwa Al Dakheel beautifully wrapped up the session by concluding that, even though these Islamic Philanthropy tools are over 14-centuries old, the infrastructure that is currently being laid down is innovative yet uses these exact same tools of Islamic Philanthropy. "Today, we are in the 21st century, we have innovation, we have technology, we have so many different limits that have never been reached before which will all enable us to achieve maximum impact with the utilization of Islamic Philanthropy and Islamic Social Finance tools".